Back
Over 1600 creatives came together for the DesignThinkers Conference in Toronto
November 03, 2022
While Laurie Rosenwald held a "top secret" workshop on analog lettering, some speakers spilled the beans in the Never Have I Ever session — on October 27 and 28 creatives from across Canada attended the 23rd annual DesignThinkers Conference at the Meridian Hall in Toronto.
In addition to having the option to choose from four different streams of talks and workshops and engaging in honest conversations about the ever-changing world of visual communication, this year's delegates were clearly thrilled to meet and connect with their peers in person after three years. The conference also had an option for online live screening for those who preferred to attend from their home or office.
All delegates have access to presentation recordings on the event platform, Pheedloop until the end of January, after which time they will be made available to all RGD Members in the Members-only section of the RGD website. You can still register here to get access to the recordings on Pheedloop.
As a precursor to the conference, on October 26, three guided tours to top creative studios in Toronto were held featuring King Ursa, Context Creative, Nurun, lg2, Jackman, Sid Lee, Vanderbrand, BLVD and Sovereign State.
Day 1 of the Conference featured talks from Miraphora Mina and Eduardo Lima, Eric Hu, Sara Wachter-Boettcher, Paloma Rincón Rodriguez, Kevin Hawkins, Elana Rudick RGD, Maurice Cherry and Mauro Procini, among others. Speakers discussed topics that included accessible design, creative AI, human side of innovation, telling stories through design, defying self perception and more. The day also featured panel discussions on building in-house team and in-house client management and workshops by Laurie Rosenwald on lettering and Robert Smith RGD on SWOT.
Day 1 finished with a Delegate Party at Bier Markt, where delegates and speakers were able to connect over some delicious hors d'oeuvres and drinks and have much-needed in-person conversations.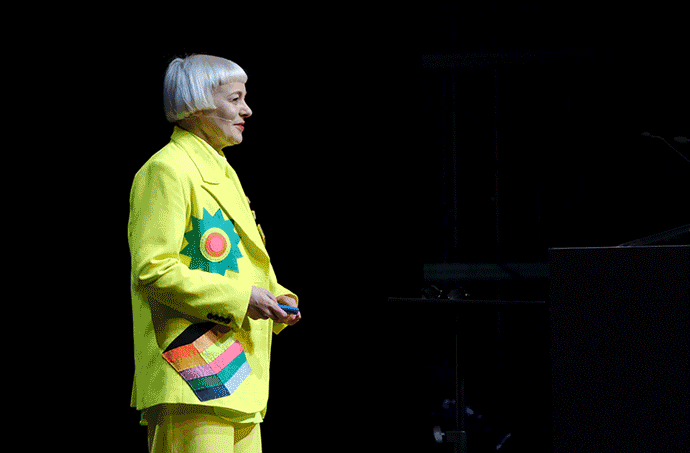 Day 2 was packed with just as much defiance and creativity. Morag Myerscough, Alex Center, Matteo Bologna, Teresa Moses, Gene Lee, Samuel Proulx, Christine Caruso and Lionel Gadoury RGD and many more took the stage to discuss topics such as embracing change, design with an abolitionist mindset, creative confidence, breaking free from familiar, defying boring and more. The day also featured a Never Have I Ever session with Matteo Bologna, Morag Myerscough, Jolene Delisle & Alex Center hosted by Julian Brown RGD and workshops on lettering by Ying Chang and improv for designers by Diana Varma RGD.
In addition to the regular conference sessions, delegates had the opportunity to get their books signed by MinaLima, Mauro Procini, Laurie Rosenwald, Sara Wachter-Boettcher, Silas Munro, Robert Smith RGD, connect with peers during breakfast and lunch at roundtable discussions and to see, feel, sample, test and consider the latest products and service offerings available to our industry in the Designer Marketplace. Dominic Ayre RGD also held a lunchtime typography workshop which was packed with attendees on both days.
Delegates and speakers were invited to share thoughts about the DesignThinkers Conference on social media using the hashtag #rgdDT.
Thank you for our volunteer photographers Andrew Terwissen RGD for day 1 and Maninder Singh RGD for day 2 of the conference.